So I put together some AW2 U NM2 Modules.
The link to the nm2 modules is
here
.
The link to the Nightmare2 program is
here
.
Some photos: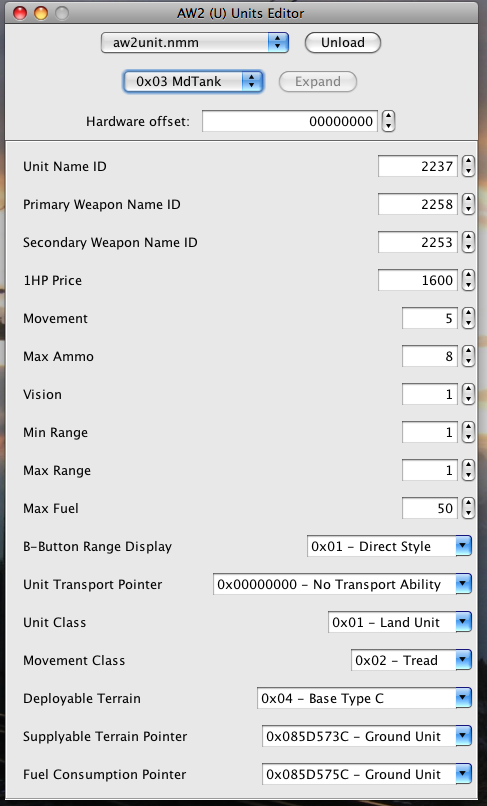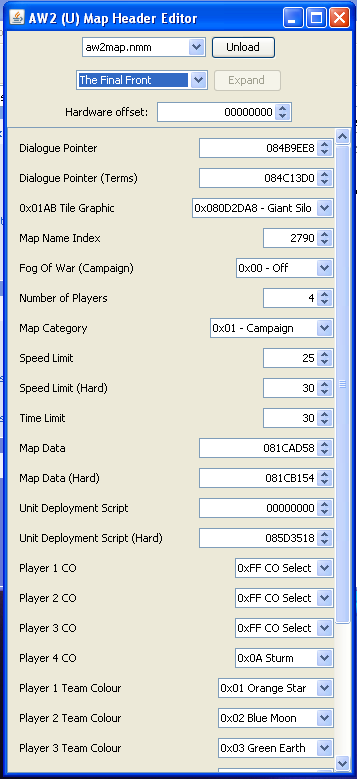 This is my collection of Nightmare2 Modules for editing Advance Wars 2 (U).
What is Nightmare2?
It's an application designed to allow for making easy data editors and the like. You can find the official download where it's always updated at
http://dl.getdropbox.com/u/336940/Nightmare%202.7z
You need the Java Runtime environment (
http://www.java.com
) to run the Nightmare2.jar file, but it should run on any platform that supports Java such as Windows or Mac OS
What do Each of the Modules Do?
aw2cmap - Edits the details of the campaign map headers.
aw2co - Edits various statistics of the COs.
aw2copower - Edits details of the 'Default' CO Power Type for each CO
aw2copowermisc - Edits a few random details of CO Powers.
aw2costat - Edits the statistics of a CO's units with the standard stat sets.
aw2costatcustom - This is for using the pointerhackultra patch (see below) to edit each CO's units individually.
aw2infostring - Edits the R-Button Info Window for units
aw2map - Edit details of the map header for every map in the game.
aw2mapanim - Edit details of the Unit's Map Animations
aw2mapsprite - Changes a unit's default idling sprite on the map
aw2movechart - Edits the default movement charts for various movement types
aw2shoppic - Allows for easy editing for the shop graphics pointers.
aw2unit - Edits unit details
aw2unitanim - Edits a unit's animation on the map details
aw2unitmap - Edits the Unit Sprite used for each faction's units
What's all that stuff in the goodies folder?
There's two patches for the ROM and a copy of the most excellent IPS patching program Lunar IPS.
Here's what they do:
Lunar IPS - Applies and creates IPS patches (saving and applying copies of IPS patches which are files with edits)
cleaner.ips - Got an Aw2 rom with one of those dodgy intros? This will remove it.
pointerhackultra.ips - A custom hack I made to allow fine control over CO stats. Apply this and use the costatcustom module to edit each unit's stats individually for each CO rather on a per-category basis.
defencedisplay.ips - Allows the CO Dossier Stats page to display a CO's Defence for a unit
Update Log:
6/1/2010
Added 3 new modules.
18/5/2010
Added some new entries to the aw2misc module
Fixed erroneous setup for the last few units in aw2costatcustom (subs and landers)
6/6/2010
Added some AI commands to aw2co module
Added new modules
21/9/2011
Added some new modules
Updated some old modules to fix errors
Updated some old modules with new information