I'm sure some of you have been following the threads, but time to announce the 1.0 release.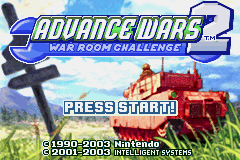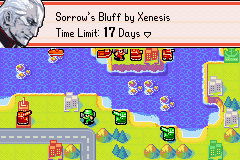 This was a wildly out of control result of what was supposed to be a one-month hack to develop a new War Room challenge for Advance Wars 2. Instead, it has turned into something that's taken over a year to put together, complete with a large amount of refinements and gameplay additions. Complete with new COs from the AW series, plenty of challenging maps and a bundle of hand-coded new features, this is a definitive hack to play for Advance Wars fans (or people who like TBS games!).
Game Features:
30 New War Room Maps to play on - Some remixes of existing maps, most brand new from the AW Community.
Tutorial map with summary of game rules, scoring and new hack features.
Each map has an info dossier with the par time and author of the map.
Each CO has unique combat abilities in the War Room setting. Some COs from Advance Wars Dual Strike and Days of Ruin make an appearance as well!
Improved high score support - The game records S-ranks achieved on each map with each CO.
Improved status screens - The unit status screen now shows CO abilities more accurately and with more stats.
Pre-deployed maps provide unique army compositions depending on your CO selection - a feature returning from Advance Wars 1!
New deterministic weather rules for fairer scoring!
Extended Status Screen - Shows your rank in progress and whether you have S-Ranked this map with the current CO.
Improved Enemy AI - Enemy COs no longer use CO powers when they'd have no reason to use them and use them more intelligently!
Unlockables - Earn more COs by scoring S Ranks on maps!
Play against or as the series' evil villains - Caulder, Sturm and Von Bolt
Get it:
Current Release Version (1.3):
Download Link
Previous Versions:
1.2
Download Link
1.1
Download Link
1.0
Download Link
History:
1.3
-Fixed a palette index error for the Current Score Display Function
-Tiling Error Fixes in these maps:
Feeling Blue
1.2
-Added a new GUI Option: Time Countdown. Counts the days left for an S-Rank, turn it on in options.
-Added a new GUI Option: Current Score Display. Shows your current score in each category. Turn it on in options.
-Edited the GUI: Instead of a 5th Rank, displays what fraction of COs have S-Ranked that map (x / 18)
-Tiling Error Fixes in these Maps:
Barracuda Bay
Battle Bridge
Beach Head
Bombardier
Crescent Isle
Feeling Blue
Island Nation
Legion Peninsula
Marshlands
Split Mountain
Comet Catcher
Whirlpool
Mial's Cape
1.1
-Fixed a bug that prevented the saving of S-Rank tally for a map if you didn't beat your high score
-Fixed an error in the description for Old Wounds
1.0
-Initial Public Release