Rules and regulations for this contest can be found
here
.
So it begins. The Character Battle 2012. As promised, it's ladies only this time. 32 of your nominations made it in and are now about to go head to head with eachother for the title of most popular video game character on WWN! Previous winners were Dan & Mia (joint winners in 2009) and Miror B (2011). Which of these 32 contestants will grab the new title? You decide! Vote for your favourite characer in every battle!
---
Our first battle will be between Lash, one of the four representatives of our beloved Advance Wars series, and Bayonetta, the star of the game bearing her name. Have fun with them!
(1) Lash

Advance Wars 2: Black Hole Rising
Advance Wars: Dual Strike
The first character up here barely needs an introduction, I think. Since we're an AW fansite, it's not all that suprising that the character who scored highest in nominations hails from that series. Her name is Lash, and she's the little genius of the Black Hole army. She often acts childish and destructive. Her best appearance by far, imho, is in Advance Wars 2, where she was one of the five villains who made your life miserable in the campaign. Lash was responsible for all of the gimmicky Black Hole inventions as gigantic cannons, laser turrets and a Deathray. In AWDS, she becomes playable in the campaign.
"The lava's going to make little people pancakes! Tee hee hee!"
Lash's Theme (AW2)
Lash's Toy Box
Lash in AWDS... playing AWDS
(8) Bayonetta
Bayonetta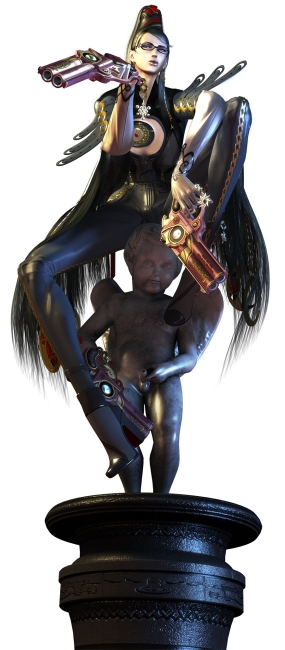 At the other side, we have the lovely Bayonetta, for whom I'm going to shamelessly rip off her Wikia page since I think it provides a better description of her than I can write myself
Bayonetta (born Cereza), the titular main character and protagonist of the game, is a coquettish and mysterious Umbra Witch who possesses remarkable talent for the bullet arts. After a 500 year slumber in a coffin submerged at the bottom of a lake, she was awakened by Antonio Redgrave and his son Luka. With the help of Rodin, her demonic informant, weaponsmith, and proprietor of The Gates of Hell bar, Bayonetta fights to find the truth of her past. She is hounded endlessly by hosts of angels along the way.
To add to this: she has guns on her
feet
. Awesome! And her hair is a weapon too!
Trailer, yo
More trailer