The Character Battle 2012 is running smoothly so far! Lash and Bayonetta made a great start, with Bayonetta currently (and surprisingly) in the lead against the highest-nominated character on the roster. Will it be an early leave for Lash? There's still two days left to
make your vote count
!
Anyway, let's move on to battle #2, since this one is bound to be at least as exciting as the previous one. Here we have Chrono Trigger's brilliant inventor Lucca battling against retro heroine Giana! There's short descriptions down below, with Giana's written by Narts!
Speaking of which, you are still invited to present small character introductions like these of your favourite characters. Please help out here! I don't know every character in the contest and it's tough if I have to write them all by myself. If you help me out, you also help keeping the contest alive as it's a lot tougher keeping this alive when I actually have to put effort in it! PM me, email me (
hpd@warsworldnews.com
) or hit me up on the WWN IRC if you're interested. Remember, it's only a few lines of text. Narts is an overachiever here. <_<
---
(4) Lucca

Chrono Trigger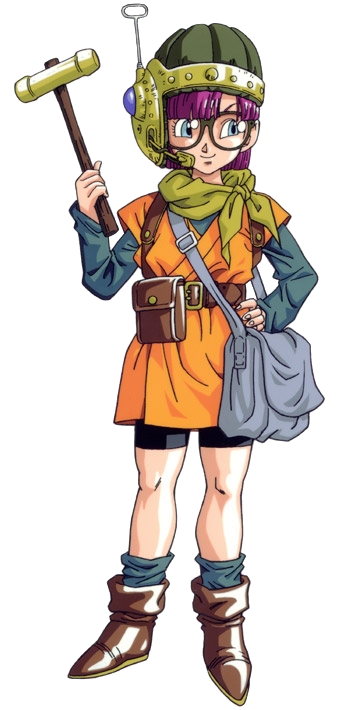 Lucca is the brilliant teenage inventor from the highly popular SNES RPG Chrono Trigger. She's repsonsible for some great inventions, one of which is the 'Telepod', a teleporter device that eventually sent the main character, Crono, back in time, starting the game's events. She's usually very witty and fights with guns and her trusty hammer. Yeah, she's cool like that.
Lucca's Theme
Chrono Trigger PSX/DS Opening
(it's awesome, watch this)
(5) Giana
The Great Giana Sisters
Giana Sisters DS
One of the oldest female icons in gaming, Giana is most interesting for her tumultuous history. Originally conceived in 1987 as a thinly-veiled knockoff of Super Mario Brothers ported to nearly all of the 80's big personal computer platforms, the original Great Giana Sisters game was pulled out from the stores shortly after release by its publisher Rainbow Arts following a legal threat from Nintendo. This didn't stop the game from becoming wildly popular through piracy, since despite the game's obvious clone roots, it was actually a great game in its own right. (The fact that these platforms did not have legitimate ports of SMB may have played its part in the popularity of Giana) The Great Giana Sisters is now remembered as one of the most defining games of the Commodore 64 generation. The original boxes have become valuable collector's items due to their rarity and the game's notorious reputation.
As a happy twist, 22 years later, in 2009, a sequel/re-imagining of the game was legitly published on Nintendo's DS platform under the name Giana Sisters DS, produced by the character's original creator Armin Gessert. Sadly, he passed away around the game's release.
The original TGGS, as a game, despite the first few levels playing almost identically to SMB, offered interesting twists that revealed themselved later on to the skillful player, that transcended the game from being a simple clone. Ironically, if those first levels hadn't been directly copied from SMB the game might have avoided the legal attention from Nintendo. The greatest, most fondly remembered feature of this game, however, is most likely the soundtrack by the C64 composer legend Chris Hülsbeck, some examples of his genius follow.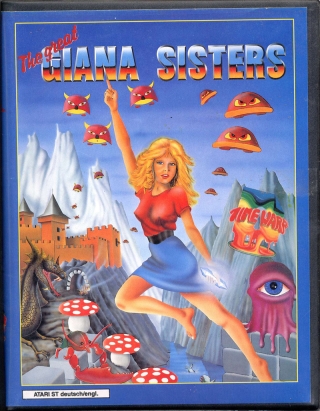 Box art of the original version.
All truly outrageous video game characters have their names spelled wrong in their game's title screens.
You gotta give it, Mario games never sounded this much raw awesome.
The DS version included faithful remixes of the original music
, as well as cutely re-imagined characters by the artist "Pikomi" (see above).
Gotta love the little treacherous psychopath.