Oops, sorry guys, I kind of forgot I should be making a topic. It's slightly late and I was just about to go to bed. But the show must go on so here's the slightly delayed new topic.
Ms. Fortune has a small lead on Jynx right now.
Are you gonna change that?
---
(2) Anna Navarre

Deus Ex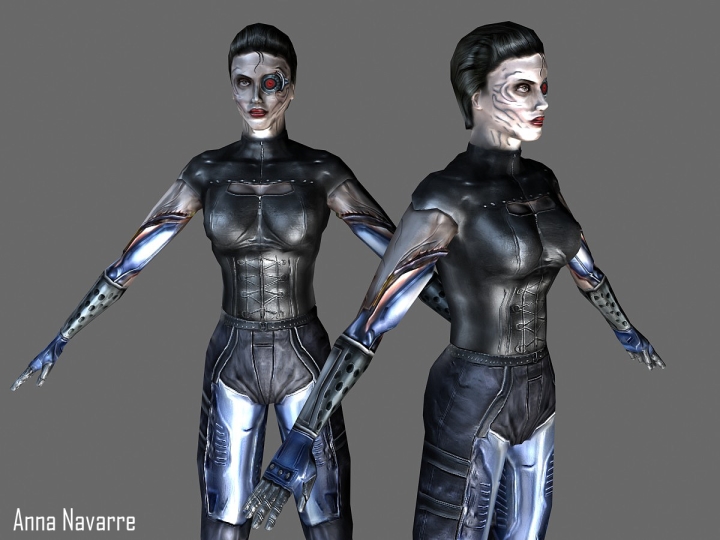 I got her in-game description so that's what you get:
"Born in Russia, trained as a commando by the Israeli army, Anna Navarre is your old-fashioned cold-blooded killer. If she were crazy she'd be a homicidal maniac, but she's not. She's very in control, and only kills under orders... or if the situation warrants it. She has no sense of humor, and no concept for "forgive and forget." Anyone who so much as accidentally scratches her with a combat knife has got a life expectancy suddenly measured in seconds. Don't get the idea that Anna has a temper, though. She's always happy when she shoots someone. UNATCO relies on her in situations that are likely to become a major gunfight, or on missions where unflinching ruthlessness is required.
Unlike many of the mechanically-enhanced agents, Anna has no fear of a "shelf-date." She was one of UNATCO's top agents before she was "enchanced," and she considers her augmentations to be just that: something that augments her abilities, not something that she needs to do the job. She plans her rise to power to be ongoing and unstoppable."
Ze Russian Akksents
Flatlander Woman!
(spoilers)
(7) Katt
Breath of Fire II
Hey, it's my personal entry, Katt! Katt (Lin in the Japanese version) is a Coliseum fighter in the hilariously awkward RPG Breath of Fire II. Those who've been following my LP (which I badly need to update, I know) will have met her there. Katt is lightning fast, strong and fierce, but... none too bright. And that's an understatement. She excels at whacking things with her stick so that's what she does all day every day.
Go ahead and make my night!
(hey it's one of my own videos!)
Go read my LP for more Katt shenanigans!