Naija vs. Gruntilda is pretty close you guys.
Get your votes in and try to sway it to the character you like most!
In the meantime I'll present you two more characters in this contest: Soulcalibur's Tira and Fire Emblem's Mia. I predict it's going to be pretty close, but that's all up to you! Let's see who wins this one!
---
(4) Tira

Soulcalibur III
Soulcalibur IV
Soulcalibur: Broken Destiny
Soulcalibur V
Tira is an interesting character from the Soulcalibur (or Soul Calibur, however you want to spell it) series. She was introduced in Soulcalibur III as the Misguided Angel of Death, a servant to the evil sword Soul Edge. Interesting about her is that she suffers from a split personality leaving her with two sides to her character, appropriately named Jolly and Gloomy. Both are pretty much completely crazy, though. In combat, she uses the most interesting of weapons: a hula hoop with blades on it named Eiserne Drossel. Her fighting style is very acrobatic in nature, giving her a very unique moveset in the Soul series.
Tira's first appearance
Soulcalibur 3 Tira gameplay
Tira's ending in Soulcalibur IV shows her split personality very well
(don't worry about spoilers, the plot in these games is nonexistant)
Tira is back in Soulcalibur V
(5) Mia

Fire Emblem: Path of Radiance
Fire Emblem: Radiant Dawn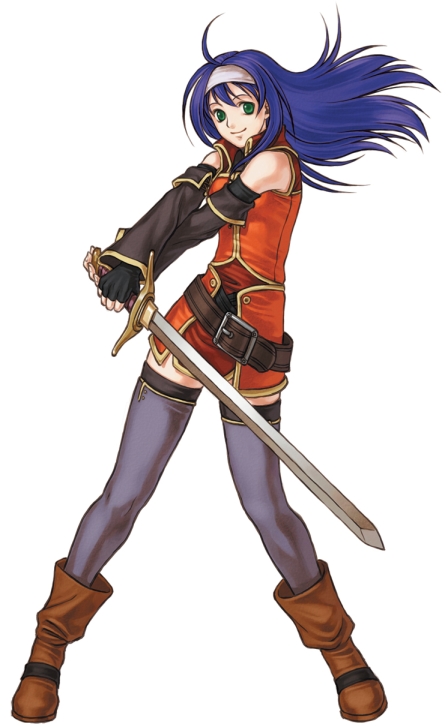 Mia is a Myrmidon who appears in two of the many games in the Fire Emblem franchise: Path of Radiance and Radiant Dawn, also known as FE 9 and 10, respectively. She is an eccentric and upbeat swordswoman who joined up with the Greil mercenaries led by Ike. She is always seeking for her arch rival, who is supposedly "clad in white".
Mia in a cutscene from Radiant Dawn
Mia in Path of Radiance
(she appears at around 4:30)