Finally we've made it to the last battle of the first round. That makes us approximately halfway through the Character Battle. It also means that these two characters are the last two new ones you get to see. After this one, it's round two baby!
But first things first: vote for either Sami or Trish in here, and for
Riven or Kazooie in here
(if you haven't done so yet). If you're done with that, just sit back and relax until round two!
By the way, it is likely there will be three days from now until the next battle since I might not be able to make a new topic in time. Sorry if that happens!
Trish's part was written by Kanzer! I hope you like what he did!
---
(2) Sami

Advance Wars
Advance Wars 2: Black Hole Rising
Advance Wars: Dual Strike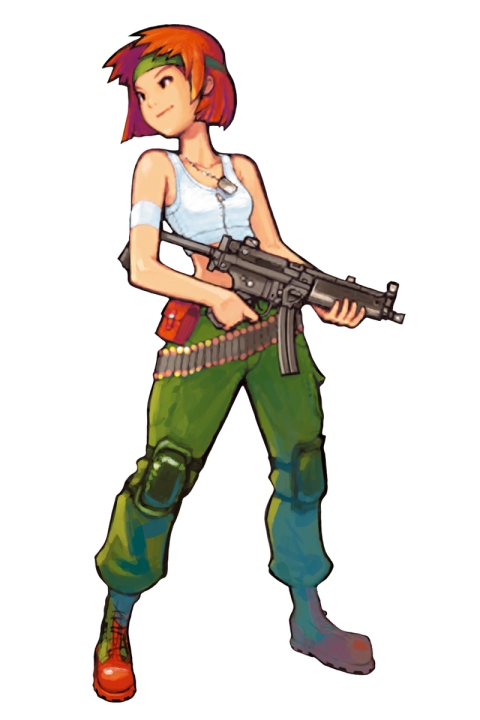 We started off with Lash, now we end with Sami. The circle is complete, so to say. Anyway, Sami is a CO in the Orange Star army and has been around ever since the first Advance Wars game was released back in 2001. Her last appearance was in Dual Strike, after which the series got a reboot in Days of Ruin. In all games she appears in Sami specializes in infantry units. Her powers give these units more firepower, movement and even increased capture speed! While she's friendly and good-natured towards her allies, she's a fierce enemy who's not afraid to tell her enemies to piss off. Don't make her angry!
Also, she's supposedly dating Eagle. No one knows how serious their relationship is, however.
Sami's Theme
And a cool guitar cover of said song
Sami's Debut!
(7) Trish
Devil May Cry 1, 2 (secret playable character), 4
Marvel vs Capcom 3, Ultimate MvC 3
Also as Gloria in DMC4, UMvC3
Devil May Cry 2 Novel
Devil May Cry: The Animated Series
Vieutiful Joe (cameo)
SNK vs Capcom: Card Fighters DS
Trish was a demon created in the very image of Dante's mother, Eva, so Dante would turn down his guard and be lured into a trap. While in Mundus' control, she is cold, manipulative and cruel. Eventually, she starts developing feelings for Dante when he saves her life even after her betrayal, going as far a to sacrificing herself to save him from her master. She got better, though. Trish ends up joining the Devil May Cry with almost innocent excitement. In the anime, she has gone off on her own, and seems to enjoy playfully picking on Dante and giving him trouble. She declines his invitation to rejoin the Devil May Cry at first, but she's already back by the time DMC4 starts. In DMC4 she is both working with Dante and Lady in the Devil May Cry and spying undercover as Gloria in the Order of the Sword. As Gloria, Trish is very flirtatious and sexually teasing, but she takes on a more refined and humble attitude towards the other members of the Order of the Sword. This is just good acting on her part, though.
Trish's combat style relies heavily upon melee attacks. As athe demon she is, Trish has some degree of superhuman strength, speed, agility and endurance. She has considerable healing factor, healing from a bullet graze in a few seconds. Trish's signature movements, though, are lightning powers. She also seems to be able to use this electricity to teleport from location to location. After the first game, she intersperses this style of fighting with usage of the sword of Sparda and the Luce & Ombra guns. In her disguise as Gloria, she wields two small blades, each of which folds in on itself.
Her shilouette makes the Devil May Cry series' logo. Also, she's got an awesome thunderbolt-shaped cleavage.
DMC First appearance
- DIEEEE! I mean I need your help.
DMC4 Dante, Trish & Lady ending scene
- Cool guys don't look at explosions.
MvC3 Trailer 2
- Trish at 1:30. Stylish.
MvC3 Combo video
- Very kickass.